Testing Neck Movement Can Predict if Whiplash Will Lead to Disability
Testing Neck Movement Can Predict if Whiplash Will Lead to Disability
Written By Duluth Chiropractic and Wellness Center on June 7, 2021
---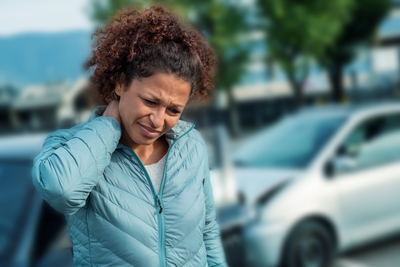 A test of neck movement can predict which people with whiplash injuries will be disabled a year later, according to a study published in the June 26, 2001 issue of Neurology, the scientific journal of the American Academy of Neurology.
At Duluth Chiropractic and Wellness Center, we want you to know the risks of leaving whiplash untreated and the benefits of seeking immediate chiropractic care. It could save you from becoming disabled--and from avoidable medical bills.
Neck Range of Motion the Most Accurate Measure in Severity of Whiplash
Researchers found that factors including the speed of the colliding cars and the age, sex or body mass index didn't accurately predict the risk of becoming disabled. However, testing neck range of motion can predict future disability with 91% accuracy.
The prediction jumps up to 94% accuracy by also factoring in the intensity of the pain and the number of other problems associated with the whiplash. People with less neck movement, greater pain intensity and other symptoms, such as dizziness, nausea and blurred vision, were more likely to be disabled a year after the accident.
The researchers also noted a correlation between having a preexisting health condition and long term whiplash consequences. It appears that some types of pre-existing health problems are more vulnerable to long term effects from whiplash. A 2010 Japanese study showed that whiplash symptoms can last for over ten years.
How a Chiropractor Can Treat Whiplash
Whiplash can cause neck stiffness and pain, decreased range of motion, pain in the upper arms, back and shoulders, blurred vision, headaches, and more.
Chiropractic care can help restore range of motion, ease away triggers causing pain, headaches and other symptoms, relax and rehabilitate neck muscles, expertly manipulate your spine to put everything back in place, which restores range of motion, and prescribe at-home self care to complete and speed up the recovery process.
Take Care of Whiplash at Duluth Chiropractic and Wellness Center
We are committed to achieving excellence through superior patient treatment and satisfaction. We love coming to work every day to be inspired by the amazing results we see on a daily basis. Our natural, non-invasive, drug free approach to health has helped thousands of people throughout the years improve their health.
Have questions or need to schedule an appointment? Call us at (770) 623-9291 or go online and fill out a contact/appointment form.

Posted In: Chiropractic Auto Injury Treatment Whiplash Treatment Neck Pain Natural Pain Treatment