Over 4,000 Studies Support Cold Laser Therapy for Inflammation and Pain Management
Over 4,000 Studies Support Cold Laser Therapy for Inflammation and Pain Management
Written By Duluth Chiropractic and Wellness Center on April 5, 2021
---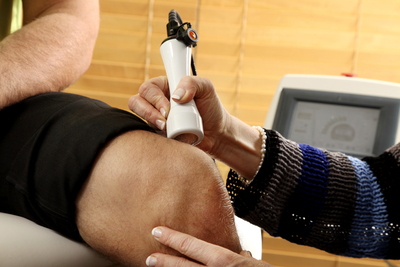 The Erchonia cold laser device has gained recent FDA approval for the non-surgical treatment of neck and shoulder pain. It's widely used in the NFL and by the USPS tour de France team chiropractor.
Cold laser therapy is a non-surgical, non-invasive procedure with little to no recovery time. It's ideal for patients seeking drug-free pain relief. We at Duluth Chiropractic and Wellness Center are proud utilizers of the Erchonia laser and want to help you get pain relief.
Cold Laser Therapy Works Its Magic At the Cellular Level
According to a 2016 report, an estimated 50 million American adults suffer from chronic pain. The Erchonia website explains that, "When you undergo LLLT, you expose your skin to photons, or particles of light that carry electromagnetic radiation. A portion of your cells, called the mitochondrion, absorbs the photons. This phenomenon causes your mitochondria to accelerate adenosine triphosphate production, which helps fuel cellular processes in the body."
Cold laser therapy stimulates regenerative activity at the cellular level. When the body has an injury, the cells are damaged and fail to function within normal parameters. Low level lasers penetrate deeply into the skin and restore abnormal cellular function.
Physiologic effects include improved metabolism, circulation and tissue healing. It's been shown to relieve pain by reducing inflammation, lowering oxidative stress, and reducing swelling and hemorrhaging. This form of treatment is even well tolerated by the elderly.
Over 4,000 studies demonstrate the positive effects of laser therapy, treating:
Sprains and strains
Post-surgical pain
Whiplash injury
Arthritis
Neck and back pain
Fibromyalgia
Migraine
Frozen shoulder
And a whole lot more
The Cold Laser Therapy Treatment Process
Cold laser treatments involve the application applying light at specific wavelengths to an affected area for 30 seconds to several minutes. It all depends on the size of the treated area and the laser dose. On average it takes 6-20 sessions for most conditions. Most people notice improvement within the first 1-2 visits. More severe conditions take 3-8 sessions to feel the difference.
Get Cold Laser Therapy at Duluth Chiropractic and Wellness Center
We are committed to achieving excellence through superior patient treatment and satisfaction. We love coming to work every day to be inspired by the amazing results we see on a daily basis. Our natural, non-invasive, drug free approach to health has helped thousands of people throughout the years improve their health.
Have questions or need to schedule an appointment? Call us at (770) 623-9291 or go online and fill out a contact/appointment form.

Posted In: Chiropractic Laser Therapy