Spinal Decompression Treatment in Duluth
Spinal Decompression Treatment in Duluth
Written By Duluth Chiropractic and Wellness Center on December 23, 2021
---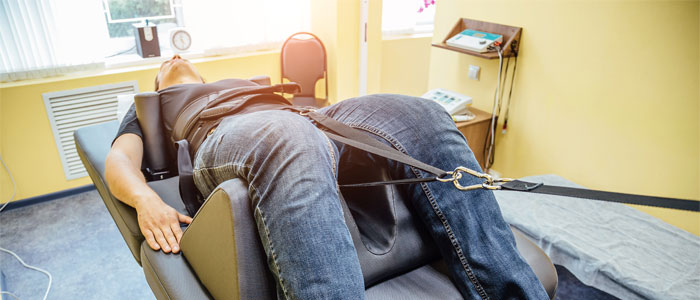 Are you suffering from chronic pain? Whether your discomfort is caused by disc problems, arthritis, or another disorder, it can limit your mobility and affect your quality of life if left untreated. At Duluth Chiropractic and Wellness Center in Duluth, GA, our spinal decompression treatments have been helping patients manage their pain and improve their overall health.
Conditions Treated
Spinal decompression can treat chronic pain that is caused by a variety of joint and nerve related issues. Conditions that can be treated with this process include herniated or bulging discs, sciatica, arm or leg pain radiating downwards, degenerative disc disease, facet syndrome, neck pain, pinched nerves, prolapsed discs, spinal arthritis, spinal stenosis, and spondylosis.
If you are unsure of the source of your pain, our doctors would be more than happy to help you determine an official diagnosis.
Spinal Decompression Explained
Spinal decompression is an entirely non-invasive treatment that requires no prescription drugs or risky surgeries. During the procedure, the spinal vertebrae are gently pulled using traction on the Kennedy Decompression Table. This process reduces the pressure inside the discs that can be causing pain, inflammation, and discomfort. Spinal decompression can also restore moisture, oxygen, and nutrients to the discs, assisting in improved circulation and overall healing.
For patients that are seeking an all-natural solution for their chronic pain, spinal decompression can be a highly effective option.
Choose Duluth Chiropractic and Wellness Center
At Duluth Chiropractic and Wellness Center, our expert staff has years of experience treating patients with chronic pain. At your first appointment, your doctor will conduct a comprehensive evaluation and interview to get a proper view of your symptoms. They will then collaborate with you to create a fully-customized treatment plan that is specifically suited for your needs. With our special brand of personalized care, your chronic pain will quickly become a thing of the past.
Schedule an Appointment Today
If you are suffering from chronic pain due to disc problems and other disorders, our spinal decompression treatments can help. To schedule an appointment at Duluth Chiropractic and Wellness Center in Duluth, GA, call (770) 623-9291 or send our team a message here.

Posted In: Chiropractic Herniated Discs Sciatica Neck Pain Low Back Pain Treatment Natural Pain Treatment Spinal Decompression Bulging Disc Middle Back Pain Tingling and Numbness