Natural Chiropractic Therapies for Headaches & Migraine Treatment
Natural Chiropractic Therapies for Headaches & Migraine Treatment
Written By Duluth Chiropractic and Wellness Center on July 6, 2020
---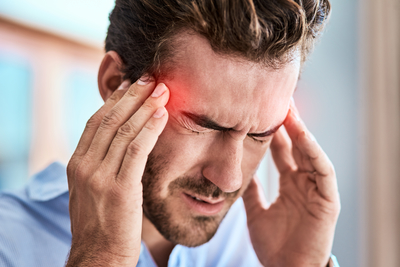 Millions of people suffer from headaches and migraines worldwide. In fact, according to the World Health Organization, headache disorders are some of the most common nervous system disorders. Nearly everyone will experience minor headaches at some point throughout their life due to an underlying health condition or stress. However, many people suffer from chronic pain, leading them to seek out either headache treatment or migraine treatment.
Headaches VS. Migraines: Two Very Different Conditions
Unfortunately, people often use the terms headache and migraines interchangeably. The reality is that headaches and migraines are two very different conditions.
Headaches
Headache pain is typically categorized in two ways: primary and secondary headaches. Primary headaches are those that aren't caused by an underlying health concern.
Examples of primary headaches include:
Tension headaches
Migraines
Cluster headaches and more
Secondary headaches are headaches that are caused by an underlying medical condition. Some causes of these headaches include:
Sleep disorders
Brain tumors
Head trauma
Inflammation
Seizures and more
Migraines
While migraines are often classified as a primary headache, they are much different than the passing headache that is often caused by a lack of sleep or stress. Migraines are characterized by chronic, intense pain that is often accompanied by other symptoms, such as:
Nausea/vomiting
Temporary vision loss
Sensitivity to sound/light
These headaches are so debilitating that they often interfere with the individual's day-to-day life.
Headache Treatments VS. Migraine Treatments: Chiropractic Care Can Help Both Conditions
Chiropractors often see new patients because they are seeking out headache or migraine treatment options. Many of them are seeking natural options because they want to avoid the use of opioids, which are often prescribed to those with chronic headache/migraine pain.
Chiropractic care offers several treatment options for those seeking a natural treatment option, including:
Acupuncture
Physical therapy
Massage therapy and more
Natural Headache and Migraine Treatments in Lawrenceville & Duluth, GA
Sure, while both headaches and migraines are a common condition, that doesn't mean you should suffer in pain. If you're searching for a natural treatment plan for your pain, then the team at Duluth Chiropractic and Wellness Center is here to help.
If you're looking for either headache treatments or natural migraine treatments in the Lawrenceville or Duluth, GA, area, then contact us today or call our office at (770) 623-9291.

Posted In: Chiropractic Headaches Natural Pain Treatment Migraine Treatment