Elbow Pain Treatment Options from Your Chiropractor
Elbow Pain Treatment Options from Your Chiropractor
Written By Duluth Chiropractic and Wellness Center on September 7, 2020
---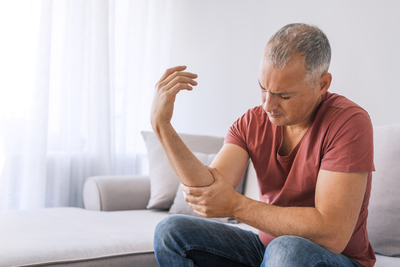 Elbow pain can be tricky to identify, making elbow pain treatment tricky as well. Why – the pain can be the result of several injuries and may be related to the elbow or could be a radiating pain from another area.
Studies have shown that, when it comes to upper extremity injuries (between the fingers, arms, elbows, and shoulders), elbow injuries account for approximately 10.5% of injuries.
So, what causes elbow pain?
Common Disorders Needing Elbow Pain Treatment
When it comes to identifying and treating elbow pain, your treatment options will come down to diagnosing the source of the pain. Elbow pain can be the result of several different elbow disorders, including:
Tendinitis

Sprains/Strains of the muscles surrounding the elbow

Fractures/broken bones

Bursitis

Arthritis

Dislocations
Determining the source of your pain is essential to developing your elbow pain treatment. To do this, you may have to undergo several tests, some of which may require x-rays.
Elbow Pain Treatment with Chiropractic Care
Typically, to diagnose the source of your elbow pain, your chiropractor will talk to you about your current activities, lifestyle and take your full health history. From there, they will likely take some x-rays to rule out any breaks or fractures of the bones in your arms. They will also conduct a full physical examination to see if there are any apparent signs of injury, such as swelling or bruising.
Once your condition has been diagnosed, there are several different treatment methods that may be utilized in your elbow pain treatment. Some of these methods may include:
Manual manipulation

of the spine and joints in the affected area.

Massage therapy

to help restore and relax the muscles in the arm and surrounding area.

Physical therapy

to address any musculoskeletal issues and help aid in strengthening any weak muscles in the area.
Elbow Pain Treatment in Lawrenceville & Duluth, GA
If you are experiencing any level of elbow pain and are seeking a non-invasive, natural elbow pain treatment plan, then the team at Duluth Chiropractic and Wellness Center are ready to guide you.
If you're looking for non-invasive elbow pain treatment options in the Lawrenceville or Duluth, GA, area, then contact us today or call our office at (770) 623-9291 to schedule an appointment.

Posted In: Chiropractic Natural Pain Treatment Elbow Pain