Chiropractic Care for Foot Pain
Chiropractic Care for Foot Pain
Written By Duluth Chiropractic and Wellness Center on September 23, 2021
---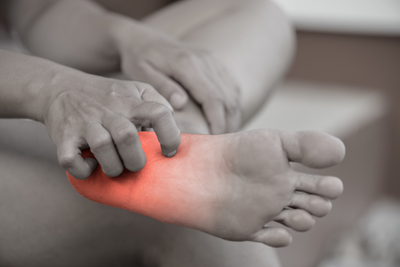 Your feet are your body's foundation. If they are injured, changes to your gait can affect far more than just your feet. It's essential to seek foot pain treatment promptly to prevent additional complications. In Duluth, GA, patients can find the compassionate chiropractic care they need at Duluth Chiropractic and Wellness Center. Dr. Steven Sommer, D.C., Dr. Mayan Orgel, D.C., and their talented team deliver evidence-based therapeutic services for patients of all ages.
Common Causes of Foot Pain
Your feet have a significant job to do. They bear your weight and allow you to move from place to place. Often, foot pain is the result of overuse or strain injuries. For example, you may have gone for a run on hard pavement or while wearing shoes that were too worn out to cushion your feet properly. Indeed, sports activities are a common cause of foot pain. However, you can also develop overuse injuries from doing simple, everyday activities like working in the yard or running errands. In other cases, foot pain may have developed after you suffered a fall or were involved in an accident.
At Duluth Chiropractic and Wellness Center, some of the most common foot-related conditions we see in our patients include the following:
Plantar fasciitis

Tendinitis

Diabetic neuropathy

Metatarsalgia

Ankle sprain
These are just a few examples. New patients at Duluth Chiropractic and Wellness Center receive in-depth diagnostics, which may include x-rays. Dr. Sommer and his team get to the root of the problem before developing a customized foot pain treatment plan.
Types of Foot Pain Treatment Options
Once our team has identified an accurate diagnosis for your foot pain, we'll explain our treatment recommendations. Depending on your particular condition, our doctor may recommend any of the following treatment modalities:
Chiropractic adjustments

: It's commonly thought that chiropractors only adjust the spine. In fact, any joint in the body may become misaligned, including those in the foot and ankle. For example, if you have plantar fasciitis, chiropractic adjustments can realign these joints. This takes pressure off the inflamed plantar fascia and allows the tissue to heal properly. In many cases, patients with foot pain also do require adjustments to the spine. This is because abnormalities with the foot and ankle lead to changes in one's gait, which can misalign the hips and, consequently, the spine.

Cold laser therapy

: Our medical providers are proud to invest in the latest technologies for the benefit of our patients. We offer the FDA-approved Erchonia cold laser therapy device, which works deep within the tissues to stimulate healing, restore normal cellular function, and reduce inflammation and pain. Cold laser therapy can also restore proper range of motion.

Electrical muscle stimulation

: We use gentle electrical currents to relax the muscles, ease spasms, reduce pain, and increase range of motion. This foot pain treatment can provide rapid relief of symptoms.

Corrective exercises

: Our medical providers understand that movement is the key to better health and faster healing. We'll demonstrate corrective stretches and exercises that will rehabilitate your injured foot or ankle, restoring you to better health.
Foot Pain Treatment in Duluth, GA
When you're suffering from debilitating foot pain, you need medical care you can rely on. Duluth Chiropractic and Wellness Center has been recognized as one of the "Best of Gwinnett" for our exceptional chiropractic and other health services. Call our friendly team at (770) 623-9291 today to request an appointment with Dr. Steven Sommer, D.C. or another of our experienced providers.

Posted In: Chiropractic Foot Pain Treatment